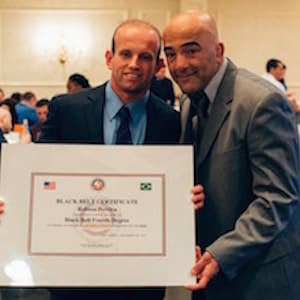 Professor Robson Pereira
Professor Robson Pereira, a native of Brazil, began his martial arts training over 28 years ago in his birth place of Sao Paulo. While earning his way up the ranks of a 4th degree Jiu-Jitsu Black Belt. He has had the opportunity to train with notable athletes from the Gracie family, Marcos Santos, Rigan Machado, Grand Master Mansor and BJ Penn.
Other distinctions include winning the Brazilian Nationals in Rio De Janeiro, and being named the Sao Paulo State Champion. Professor Robson has also trained in Kick-Boxing, Judo, MMA/Vale Tudo. He is currently training under Master Jucao.
4th Degree Brazilian Jiu-Jitsu Black Belt.
Amateur MMA fighting record of 9-2.
Professional MMA record of 4-0.
Amateur Muay Thai record 9-2.
Professional Muay Thai record 5-2.
IBJFF: Certificate of Achievement